Whether or not you consider yourself a kinky girl (or guy), if you read kink, you must have your favorite or favorites. Fess up. Some books do it for you and others may make your skin crawl. That's cool. Different strokes for different folks and all.
If you're a fan of this subgenre what elements do you look for in books? If you're a writer, do you like to explore the lighter side of BDSM or the darker, more edgy side in your books? As a writer, I'd love to know what readers like and don't like.
Spanking, bondage, the power exchange between a Dom and his submissive, a female Domme and male sub, MM, FF, or a combination ménage, fireplay, needle or knife play, electrical shock, humiliation, voyeurism and a variety of role playing scenes. There are so many flavors in the BDSM world.
With a little imagination and a like-minded couple, sex (or erotic books) never has to be boring!
EMERALD DUNGEON Video
:
http://www.youtube.com/watch?v=m2XWIKl_D7Y
Personally, I like reading a variety from light to dark and edgy, but I tend to write on the lighter side. Although, I think a few scenes may be considered a little dark. Even if I read the hardcore BDSM with one eye open, I'm fascinated and love this genre, and if the writing is good, intrigued by the connection between the characters.
Some authors prefer to stay out of the club scene and write a more personal story behind closed doors. That's cool, I love those stories and I've written both club and private scenes. There's a different dynamic in a club scene, a potential for conflict not found in a bedroom scene. Although, there is potential conflict galore in the bedroom too! I do like the voyeuristic edge in a club as I confess to being a bit of a voyeur.
Last year I attended Dr. Charley Ferrer's BDSM Writer's Workshop in NYC and visited Paddles, a BDSM club. I had my voyeuristic side gratified during these nights. Some scenes were easier to watch than others. A few like needle play in intimate areas I couldn't watch at all. A scene between a Sadist and his lovely Masochist was compelling and I was riveted at first. I sat on a restraining bed watching (no I wasn't restrained) as the scene developed, but after a while, I had to quietly walk out. It was much too intense for me. I did get a glimpse of what someone looks and acts like in subspace—a few people. A quick description would be a cross between a runner's high and slightly drunk.
Research in books could never compare to attending these nights at the club and my own personal experience with a Domme. Yes, why pass up an opportunity like this? MaryAnn, a sweet Domme volunteered to demo a flogger on me. Bared from the waist up, I faced the St. Andrew's Cross. She started out with light strokes and increased the intensity. Periodically, she stopped and checked in on me. I told her she could go harder. I wanted to feel the pain to better describe it in my books. I think I was able to go further than expected probably because I was in a loft area, looking down at all of the wonderful people, totally amazed and very distracted. I did say I'm a bit of a voyeur, maybe more than a bit.
J
My session finished with MaryAnn and I had my memory and research for my books, and the next day quite a few bruises.
The warm and wonderful people were so open and friendly and willing to share their thoughts and experiences and welcomed my questions. I greatly appreciate their kindness.
BDSM books by Kathy Kulig: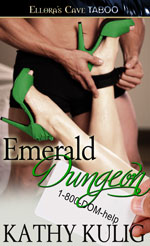 SUMMER SINS – Coming soon