Demons and shapeshifters in my Demons in Exile series will be partying it up on New Year's Eve this week. These demons are unlike the average demon. Bad enough to be exiled from their home planet and now bad enough to possibly cause the destruction of another world—Earth. They're hot, sexy and insatiable.
Shapeshifters and mortals on Earth are seduced by their lustful ways. Their means of survival is by collecting the lifeforce energy of mortals through sex. And throughout the three-book series, they get in all kinds of trouble and develop love triangles out of this world--literally.
The presence of their alternative world is so close to Earth, it's disrupting Earth's physical stability. One world will be destroyed if something isn't done. Can the love between enemies, mortal and immortal, stop the destruction?
How are the demons trained to collect this lifeforce energy?
Their training is conducted by a Disciplinarian who uses a bit of SM (Sadomasochism) to educate the drone demons. Very hot and sexy to 'watch'.
They can participate in sex, cause their partner to achieve orgasm, but cannot indulge in that pleasure themselves. If they do, they'll kill their quarry and lose all the energy they collected. Their world needs this energy to survive.
What did the demons do that was so terrible that they were exiled from their home planet? That prequel story will be told in a future release: RISKY PLEASURES soon to be released at Ellora's Cave. Release date: TBA.
Why are they partying? Besides New Year's Eve,
Dante, the bad boy demon and favorite of this series, will see his book:
DAMNED AND DEFIANT
in print at Ellora's Cave on 12/31/13.
Here's the series outline: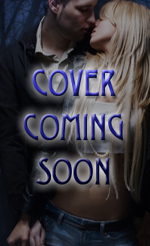 RISKY PLEASURES
(coming soon to Ellora's Cave)
Blurb: Sakari's desire burns deep for the hot and erotic moments Zorian provides in his private chambers. But to get him there alone, she must risk her immortal life and the wrath of the demoness. Sexual pleasures among demon drones are strictly forbidden, and she has defied the demoness by returning to Anartia without her offering. As a skilled Disciplinarian, Zorian will do whatever it takes to train her as a proper drone by testing her sexual limits before they can indulge their own wicked urges. Sakari's darkest secret will be their greatest risk and test of their love.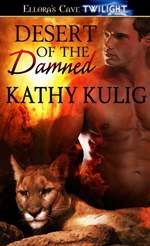 DESERT OF THE DAMNED
–Blurb:
While working on an environmental project in the Arizona desert, research scientist Amy Weston finds herself caught in the war between two men. Dante Akanto lures her into the desert to explore the dark side of her passions, pleasuring her in erotic ways she never thought possible with his bizarre sex games. And park ranger Jake Montag has a compelling mysticism and powerful sensuality that's HOT and impossible to resist. But the two men, demon and shapeshifter, are engaged in a supernatural fight between worlds. Amy and her high level of life force energy is the key. Dante's world and his immortality depend on claiming her as his own. The choice Amy makes between the two men will affect both her world and her future. Reader Advisory: Contains scorching scenes of bondage. Publisher Note: This book is loosely based on a short story previously published elsewhere.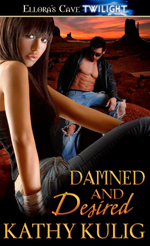 DAMNED AND DESIRED
–Blurb:

2011 EPIC Award Finalist

. Stand-alone sequel to Desert of the Damned. She's a demon, he's a shapeshifting leopard. From their first meeting in the Arizona desert, passion ignites and trouble begins. As a demon, Sakari Lock must harvest lifeforce energy through sexual seductions to sustain her exiled world. But when Sakari meets Brad, she breaks the number one rule of Anartia--don't get personal with your quarry.Physician's assistant Brad Montag is drawn to Sakari's lustful advances with a blazing desire he can't explain, unaware of how dangerous she is. No matter how enticing, she's a complication he doesn't need until he can conquer his past and regain control of his shapeshifting abilities. Sex this wicked and good can only lead to disaster.When immortals from an alternate dimension try to free their exiled world, Brad is caught in the middle of a battle that could destroy not only him, but the land he loves.Reader Advisory: This book offers a bit of bondage for your BDSM pleasure, as well as secondary characters getting down with a little M/M/F fun of their own.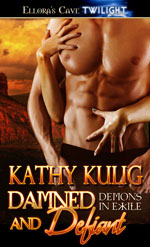 DAMNED AND DEFIANT
–Blurb: Though a stand-alone story, we suggest reading in sequence to fully enjoy. Mortal women surrender to Dante's seductions. He is a Drone, an immortal who feeds off their lifeforce energy—the chi that keeps his kind alive. When his dimension is on the edge of destruction, Dante must seek the help of one special woman.Haley Moore is a Sha Warrior—a mortal with excess lifeforce. She's always been drawn to Dante. When they meet again he thinks luck is on his side—his quota of chi energy would be obtained after one scorching scene with this mortal. The problem is that he is overwhelmingly attracted to her and once with this woman won't be enough.
Haley tries to draw out the man buried deep within the demon. Their fierce, undeniable passion unravels his plans and threatens her life. But Dante is destined to leave Earth forever. He must choose whether to return to Prygos
or give up his immortality and share his future with Haley.
Excerpt:
The skinwalker—part man, part coyote—shifted into his human form as he gazed upon the young woman, his quarry. She removed her clothes and dropped them onto the cool, desert sand. She gave him a lustful glance as if she was the one controlling the seduction. "Nice trick with the coyote. Are you a magician?" Her words were slurred. But the trance hadn't taken hold.
"Something like that," he answered. He felt a flush of heat on his face. How the hell was she still aware? Something wasn't right. This Kithra was different than the others, and he wasn't sure why. He slid his hands over her arms and sparks skidded across her skin.
"I love the desert at night," she added as her eyelids flickered. The air around her body crackled with electricity, her short, blonde hair stood out from the static. Not his usual choice for Kithras. He preferred ones with long, dark hair like the Drones from Prygos. It had to be her level of energy that drew him to this one.
"Yes," he murmured, then waved his hand over her face, deepening the trance with little effort. He extended a finger and ran it down the side of her cheek, her neck, between her small breasts and cut diagonally across her flat stomach to her narrow hips. When his finger skimmed close to her pubic area she shivered and moaned. She was a slight creature with an athletic build. He preferred his Kithra to have a few more curves but she would provide adequate chi for his needs. Pointing to the blanket, he smiled when she complied and stretched out on it, her arms and legs spread.
Dante Akanto gave her a knowing smile, stepped back and paced around the naked woman. He watched her hands slide over her breasts and rub her pussy. "Fuck me, Dante." She writhed on the Navajo blanket, deep in the sexual trance, almost ready for the offering. A rush of hot, sexual sensations surged through him and his cock hardened. No! He had to fight his urges or he'd risk killing her during the collection.
Beside her, a campfire blazed, keeping away the night creatures of the Arizona desert. She moaned, teasing him with her sultry movements and her scent. The look she gave him made him ache with a desperate hunger. The woman's sexual appetite could yank her out of the trance if he wasn't careful. Dante swirled the energy field around her, easing her deeper into his spell. Her eyes glazed over.
Better. Finally, this Kithra was becoming receptive to his influences. Her energy level was high and hard to manage. Probably a Sha Warrior. Lucky for him to pick a mortal with so much lifeforce. He'd meet his quota after this collection. Moving over to his Harley, he removed the rest of his clothes, cowboy boots, leather pants and hung them over his bike.
Naked and fully aroused, he stood over her and stroked his cock. The woman was quite beautiful. Was she purposefully downplaying her appearance by wearing worn jeans and a baggy T-shirt? What struck Dante the most was her eyes. Large and golden brown, they shone with intelligence, but also appeared dark with despair. Like a polished jewel that had lost its sparkle. He sensed a toughness within her, a fear maybe, brought on by a life of tragedy or loss.
Don't get personal with your quarry.
He'd seen her walking along the highway alone. Young, attractive, fearless and carrying a backpack. A traveler? Homeless? He didn't know. She was the perfect Kithra or quarry. She accepted his offer for a ride, with a little telepathic influence on his part, and he'd driven her out into the desert. No one would see them here.
She'd laughed when he'd swung the bike off the road, heading into open desert. While he made a campfire, she'd taken his Navajo blanket from the saddlebag and spread it out by the fire. Now naked and in trance, he craved to take her as a mortal man would take a mortal woman, but he couldn't. She didn't need to be naked for the collection. And tonight it was making his task more difficult.
Dante had to make his quota of human lifeforce energy to the demoness of Anartia. The immortals needed his offering to maintain their world. If he failed, he'd be replaced—destroyed—by Gwyllain, or her consort Tarik, the rulers of Anartia.
The woman watched him with hunger and lust in her eyes. The need to climax was great. His cock ached. But he'd have to wait until the offering. Stay in control. The more he teased and prolonged her orgasm, the better the harvest of chi.
HAPPY NEW YEAR TO YOU ALL!!!
May 2014 be the best ever. Wishing you all good things for you in the new year. Thank you for your kind support and being a part of my writing dream.