Review for Damned and Defiant by Gravetells Reviews
~Gives 4 Hearts and Recommended read~
http://gravetells.com/2013/01/22/damned-and-defiant-demons-in-exile-3-by-kathy-kulig
Memorable Quotes in the novel:
There's just something about her that made her different from all the rest...
He couldn't leave her. He didn't know why but he couldn't do it.
The moment when everything he's ever been taught goes out the window...
A Drone is created to seduce and collect chi, not resist advances. Did he even have the power to resist?
Being a mortal isn't for everyone...
Everything he ever loved as a mortal had been taken from him. The horror of near death was an experience he didn't want to repeat. He couldn't stay, and he couldn't take Haley with him.
Amazon: Link
BN: Link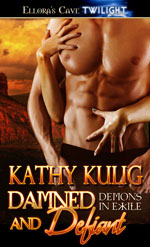 Intro to Haley, Heroine in Damned and Defiant:
Haley was a fun character to write. She's from what some people would call the wrong side of the tracks. People have called her dirt road trailer park trash. Can't get much lower than that. She also comes from tragedy which is revealed in Damned and Defiant. She's determined to escape that label, escape her past and make a life and name for herself and gain respect. She's defiant about it. Dante, the hero and demon is also defiant in his goals, but are his goals the right ones? Haley challenges him, makes him face himself and go to the dark places he doesn't want to go. Haley discovers that she too, can't hide from her dark past.
Haley claims to have psychic abilities. Some of her skills include seeing auras and horse whispering. In Texas, she worked with horses and knows them well. Dante needs a horse whisperer so he can bring his horses into his demon world.
The few friends she's made in Sedona thinks she's a bit quirky and don't necessarily believe in her psychic abilities but she's well liked, a hard worker and has a big heart.
Dante knows differently when it comes to her psychic skills. He detects that she has exceptional powers, many have yet to be developed. Haley is what his kind call a Sha Warrior—a mortal with naturally high essence of lifeforce energy. A gold mind for the demons of his world. The demons need to collect lifeforce energy in order to survive and Haley has a fountain of energy. It's like the life-blood for vampires. Dante is torn between his feelings for her and using her source of power for his kind. Other demons want her for their own personal gain.
Haley may seem a bit flighty but she has guts. She's a survivor and when she knows what she wants, she has a defiant will and courage to fight for it.
Blurb
: Mortal women surrender to Dante's seductions. He is a Drone, an immortal who feeds off their lifeforce energy—the chi that keeps his kind alive. When his dimension is on the edge of destruction, Dante must seek the help of one special woman.
Haley Moore is a Sha Warrior—a mortal with excess lifeforce energy. She has always had a strong attraction to Dante and when they meet again he thinks luck is on his side because his quota of chi energy would be obtained after one scorching scene with this mortal. But the problem is that he is overwhelmingly attracted to her and once with this woman won't be enough.
Haley tries to draw out the man buried deep within the demon. Their fierce, undeniable passion unravels his plans and threatens her life. Can Dante bear to abandon her when he leaves Earth forever? Dante will have to choose whether to return to his world or to give up his immortality and share his future with Haley.