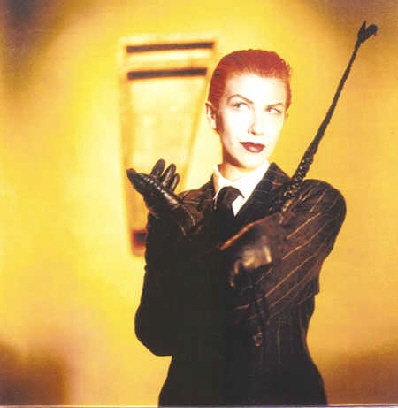 In a BDSM Dungeon, Part III
"S
weet Dreams Are Made of This" from the 1983 hit song by the Eurythmics. If you've seen the video and Annie Lennox wearing a man's suit, close-cropped orange hair and brandishing a cane, and listen to the words, you'll get the D/s undertones.

This blog post is a continuation of the 4-part BDSM series. Part IV will be posted on October 3rd.
Electrical Play -
During our class, we got a demo on electrical play. You may have heard of the violet wand. This is similar. Have you ever been to a science museum and touched a large glass globe and felt and saw the electric sparks? It's the same technology. This type of equipment is safer than a TENS unit because the electrical charge isn't dangerous to the heart. It's static electricity. A gentleman and his partner demonstrated the instrument using a variety of attachments that sparked different colors, made distinct sounds and different sensations. They used tinsel like you'd get from Party City and swirled it over a volunteer's body, making the sparks dance. Pretty cool to watch. The person experiencing it seemed to enjoy the sensation too. But the sparks do hurt a bit. Ow! At the club, he set up a table for patrons to try out which, in the dark club, made me think of Frankenstein with all the visual sparks. That was fun to watch.
Purposed of a Leash and Collar
– Personally I'd always felt the leash/collar thing was a bit demeaning. If someone had tried placing one around my neck, I would've punched him in the nose. I have a new understanding now. The collar is a sign of ownership but it's also given and worn similar to a wedding/engagement ring. The leash is also a sign of ownership and an increased level of Dominance and control. It's also used for presentation in a public setting. It's considered very bad etiquette for someone to pick up a leash if a Dom/Domme lets it go for a moment. A Velcro collar isn't respected because it's looked upon as meaning the person is a slut for anybody since the Velcro can be easily removed.
Sadists and Masochists
– This was the one scene that I found very difficult to watch. It was a scene between a sadist Dom and his masochistic submissive. I watched with another woman in our group and she saw me sitting on my hands. It was my way of reminding myself NOT to interfere. All the books I've read hadn't prepared me for a scene between a sadist and a masochist. Even a submissive in our group said she can't watch this particular couple. Apparently, they're regulars. The Dom got very physical with his sub. I had to remind myself she could stop it at any time by calling her safe word. This was their thing. I had to resist the urge to jump up, slam him into the wall and kick the crap out of him. All the other scenes, I had no problem with, this one was over the top for me. I eventually left. Later, I saw him her holding her hand protectively and very lovingly, gently caressing her. Quite a switch from what I'd seen earlier. He seemed very attentive in aftercare, or tending to the physical and emotional needs of his sub.
Mind Fuck
– This is a mind game where the Dom uses fear to control a sub. An example would be where a Dom threatens to cut his sub's hair if she doesn't do something. The sub doesn't believe it and the Dom either makes believe that he is by making the sound with a pair of scissors, cutting a small piece of hair or planning a head and saving a piece of fake hair similar to his sub's hair color and hiding it for this purpose. I saw a bit of this where the sadist threatened to punish his masochist if she dropped a particular item she was holding in her mouth. She didn't know how he was going to punish her. By what he was doing to her (needle play) it wouldn't be long before she would have to drop the item to cry out. His punishments were severe and this was the point I left the scene.
Saturday night.
Saturday was a much busier night. A social group called The Eulenspiegel Society or TES (

http://www.tes.org/

)

came in and they were a lively fun group. They knew there were a group of writers visiting and were happy to chat with us. Or let us watch. I should say they do have safety guards or dungeon masters. Not sure of the correct term. But they did wear a vest with florescent tape resembling a crossing guard vest. They walked around the club making sure the rules were being followed and safety practices were being upheld. A few of us in the writers group tried out a few things. I asked if I could try out flogging. Dr. Charley set me up with the woman whose partner does the electrical play. She, however, is a Domme and a sadist. Gulp. I laughed nervously and said, I only wanted to try it out, you're not going to kill me are you? She was very sweet and no, she didn't kill me. She kept checking to make sure I was okay. So now I can accurately write how a flogging feels. Dr. Charley called me her Flogger Girl. We also watched some expert floggers who used two floggers in a Florentine whipping. For the coordinated BDSMer.
J
The next day Dr. Charley gave those of us who tried out something in the club (explored some element of BDSM) a "red badge of courage" a pretty red silk book mark with tiny handcuffs. Very cute.
Don't forget to check out Cris Anson's blog today. She's also posting a BDSM series on the same workshop. Francesca Hawley will be posting her blogs too.
In the last post of the 4-part BDSM series I'll talk about

Subspace, Frogs, ah, the strange things we do with cellophane, and also answer the question - Is Paddles haunted?