Welcome Jocelyn Dex
to
the HOT and
Sexy Paranormal Memorial Day Giveaway Event.
Visitors, if you like what you read, please check out Jocelyn's books, see links below. And leave a comment for a chance to WIN a copy of Araya's Addiction. Don't forget to check out A.C. James blog for her Sizzling, Hot Memorial Day posts this week for other author giveaways too!
Jocelyn Dex:

Thanks for having me! You can find Araya's Addiction, my first erotic paranormal romance at: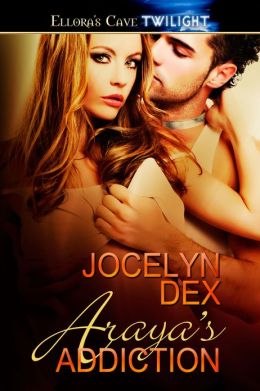 Kathy Kulig: Hello, Jocelyn. Please tell us something about yourself, where you're from, and how you became a writer.
Jocelyn Dex: Well, I was born and raised in Iowa but I live in Texas now. My mother got me into reading Harlequin romances many years ago and one day, being the snooping kid I was, I looked under her bed and found a manuscript. It was hers! I read it, loved it, and have had the writing bug ever since.
Kathy Kulig: What paranormal elements and characters do you incorporate in your stories? Who are your favorite paranormal creatures—Vampires, werewolves, demons, etc.?
Jocelyn Dex: I have a thing for demons. Not sure why but I just love reading demon romances so that's what I write. My current series, unnamed as of now, is about Sempire Demons. Sempires require semen to survive. Now, that might sound like straight erotica or even porn, but it's not. My stories have an emotional, romantic element and an HEA is always there to give you that "awwww" feeling.
Kathy Kulig: What are you working on at the moment? New release coming up?
Jocelyn Dex: Araya's Addiction was my first book in the world of Sempires. Valia's Villain was just recently accepted for publication and the third book in the series, unnamed as of yet, is being considered. I'm very excited about all of it. I love the characters, their emotions, and how they find their HEAs. I also just submitted an erotic contemporary short to an anthology. Fingers crossed.
Kathy Kulig: Where can readers find out about you and your books?
Kathy Kulig: Thank you for interviewing today on my Passion Sense Blog. Good luck with Valia's Villain and we look forward to having you back.
Jocelyn Dex: Thank you for having me, Kathy!