Welcome
Lexi Post
to
the HOT and
Sexy Paranormal Memorial Day Giveaway Event.
Lexi is giving away the beautiful Venetian mask from Italy (see above) to celebrate her new release Masque from Ellora's Cave. Leave a comment and

email for a chance to WIN.
Welcome to the Passion Sense Blog Lexi Post. Visitors, if you like what you read, please check out her books at:
Kathy Kulig: Hello, Lexi. Please tell us something about yourself, where you're from, and how you became a writer.
Lexi Post: Well, I'm kind of from everywhere, at least within the United States. I've lived in NJ, NH, MA, IA, IN, AZ, DE, MD, and now I'm living in the U.S. Virgin Islands in the Caribbean.

I have to say I love the weather here (except during hurricane season). As for writing, I came to it from two directions. I was a literature major for my degrees and I fell in love with romance novels at age 14, so I was constantly flipping between Shakespeare and Kathleen Woodiwiss, Melville and Johanna Lindsay.

I guess it is no wonder that I decided to write erotic romance inspired by the classics.

For people who aren't into classic literature, my story is a complete erotic romance with happily ever after, but for those who want to read the original first, they will find another whole level of meaning, so it is fun either way.
Kathy Kulig: What paranormal elements and characters do you incorporate in your stories? Who are your favor paranormal creatures—Vampires, werewolves, demons, etc.?
Lexi Post: My paranormal is always subtle and a bit different each time. For example, in my debut release Masque, I have 73 ghosts and a 185 year-old hero who is neither ghost nor immortal. Okay, maybe that one isn't so subtle. It's because this story was inspired by Edgar Allan Poe's short story "The Masque of the Red Death." You see, Rena Mills plans to turn an abandoned abbey into a haunted bed-and-breakfast to prove she can be successful without her ex-fiancé. What she finds inside is Synn MacAllistair, the distinguished, self-proclaimed Ghost Keeper. Her dreams soon fill with sexual cravings for him.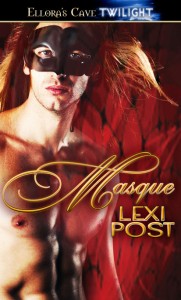 Synn, born in 1828, is determined to free the souls of the resident spirits, blaming himself for bringing the Red Death that killed them. When Rena steps into the old Pleasure Palace, he's sure he can take her through the 7 after-midnight Pleasure Rooms and stoke her passion to complete the Masque so the souls can cross over. Her innocent fire makes him crave more, but it's far too late for him.
As Rena begins her erotic journey, her heart becomes more involved with every sensual caress until she discovers by completing the Masque she will lose her ghosts! Synn's betrayal wars with her compassion for her ghostly friends. Torn, she must make a choice between her financial security and freeing 73 trapped souls. Either way, she could lose her Synn.
As for which paranormal creatures I favor, when it comes to reading, I have to say shifters. I'm an animal lover at heart, so these human animals really tug at my heart strings
J
Kathy Kulig: What are you working on at the moment? New release coming up?
Lexi Post: I am working on a couple projects right now. I have a new book to be released this fall by Ellora's Cave called Passion's Poison.

In this erotic romance inspired by Nathaniel Hawthorne's "Rappaccini's Daughter," the paranormal element came from the original story. Beatrice Rappaccini is poisonous.

However, in my story she has to release those poisons to stay alive by having sex with unsuspecting men, and the men, well, let's just say they don't feel so good afterwards. This does cause a bit of a problem when Bea falls head over heels in love. I mean, really, she could easily kill the man simply by losing herself in the moment!
The other project I'm working on, as in writing furiously, is the Passion of Sleepy Hollow. As you can imagine, this story was inspired by Washington Irving's "The Legend of Sleepy Hollow," and its paranormal element involves an 18th century witch and a disappearing village. The heroine lives in Old Time and the hero lives in New Time, so I guess you could say their time together is limited, unless of course they make love. This story does include the Headless Horseman. In fact, he's the hero!
Kathy Kulig: Where can readers find out about you and your books?
Lexi Post: They can visit any one of the links below.

I love visitors
J
Kathy Kulig: Thank you for interviewing today on my Passion Sense Blog. Good luck with Masque and we look forward to having you back.
Lexi Post: Thank you so much for having me.