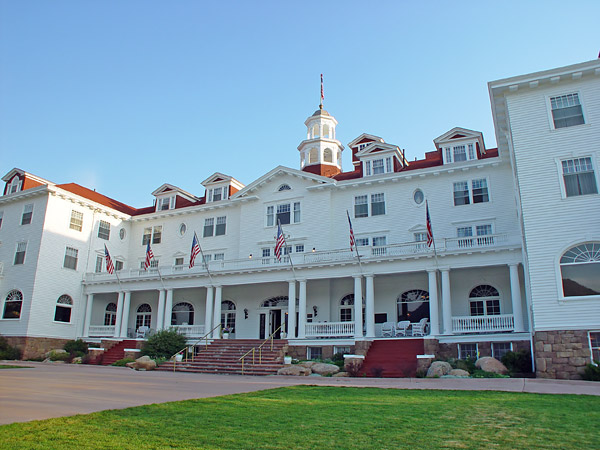 The Stanley Hotel, Estes Park, Colorado (
The Shining
)
As I'm getting ready to leave for another conference this weekend-
New Jersey Romance Writers Put Your Heart In a Book Conference
-October 22-24th, I realized Halloween is just around the corner. I need to shop for treats for the trick-or-treaters. I just got back from
Romanticon
and as soon as I sort through my photos, I'll post some here and on Facebook. But for now I was thinking about fun, creepy vacation spots for Halloween.
The leaves are changing all those beautiful colors, the air is crisp. It's a great time for hiking or bike rides. I checked out favorite getaway hot spots for Halloween vacations. Or I should say "haunt" spots. Here are a few suggestions:
The Stanley Hotel in Estes Park, Colorado

Remember The Shining Stephen King's novel turned into a movie. This is the hotel. After Stephen King spent a creepy, isolated weekend here with his family in the early 70s, he got the idea for his novel. Good luck getting room 217, where King is supposed to have stayed, or room 408, which is considered the most haunted room in the hotel. Creepy, oh yeah. Each year the proprietors throw a "Shining Ball". The hotel celebrated its 100th birthday last year.
Queen Mary Corridor
The Queen Mary Hotel in Long Beach, California

The Queen Mary is probably the second most talked-about ocean liner in the world, next to the Titanic. Launched in 1934, it was retired in 1967 and is now a floating hotel. The last four decades, its developed a reputation as a paranormal hot spot. A very eerie place, but very beautiful.
The Hotel Del Coronado in Coronado, California

The Hotel Del Coronado is located near San Diego and is considered to be the most haunted hotel in the country. A pricy location for a get-away spot. Way too pricy for me. Kate Morgan is said to be the shy ghostly resident.
The Logan Inn in New Hope, Pennsylvania
I have to add my own choice of a Halloween vacation get-away, because I've stayed in this one a few times but not around Halloween. The town does have a ghost tour. I always wanted to do that. The Logan Inn was established as an inn in 1727 and is the longest, continuously run inn in the United States. New Hope is a small village along the Delaware River and is said to be the most haunted town in America. And the Logan Inn, one of the most haunted buildings. I didn't see any ghosts while dh and I stayed there. But I did have rather strange dreams.

During the Revolutionary War they used the basement as a crematorium. Guests and staff report seeing soldiers wandering the halls. The original owner's mother, Emily is said to haunt room six by opening drawers, rearranging luggage, changing the heat in the room. The scent of lavender sometimes drifts around a painting. The Logan Inn is my pick. Although I would like to try the Stanley Hotel too.
What are your ideas for a Halloween vacation?