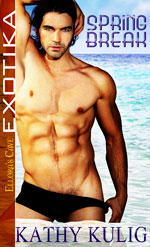 Spring is taking a darn long time getting here. The flowers may be blooming but the weather is still too cold for me. Soooo, Ellora's Cave is going to make it a little easier for it to feel more like spring. This week from April 8-12th my Exotika novella
SPRING BREAK will be 25% off!!!
I've been working hard on a couple other projects and now that those are out of the way, I'm back to working on the second in this HOT series. TropiX is an invitation only club in South Florida where sexual fantasies come true, but sometimes not the ones you were expecting. After spring comes summer, and it gets very hot in Florida during the summer. TropiX will be looking even hotter in this next story with a new addition to the club. The wild and sexy Cynthia and Carter are returning with another adventure and hopefully the new couple Emma and Adrian will survive Cynthia's good intensions.
Here's the blurb to SPRING BREAK:
Spring break beyond your wildest fantasies? If Justin Watkins can stop watching over his college students like Big Brother, he might convince the prim-and-proper Mariko Maguire to be his sex partner at the invitation-only adult club called TropiX.Mariko is in Fort Lauderdale on business, trying to secure new clients for her PR firm. Abandoning prior commitments for one wickedly lustful evening--a one-night stand of kinky sex--was not on her agenda.Carter Bosworth is looking for an evening of sex games during his layover in the tropical playground. He's a regular at TropiX and always open for a new thrill. His plans are sidetracked, but it may be to his benefit after all when he meets the beautiful Mariko.The potent heat developing between Justin and Mariko tempts her into shedding her inhibitions, and an exploration in a menage beyond her imagination develops at the fetish club.