I'm thrilled to announce
SPRING BREAK
, my new erotic contemporary romance from Ellora's Cave, has a release date!
APRIL 13TH!
This is NOT the spring break you had in college. It does take place in Fort Lauderdale during spring break but there's a whole new twist. Here's the blurb: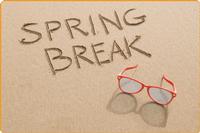 Spring break beyond your wildest fantasies? If Justin Watkins can stop keeping watch over his college students like Big Brother, he might convince the prim-and-proper Mariko Maguire to be his sex partner at the invitation-only adult club called TropiX.
Mariko is in Fort Lauderdale on business, trying to secure new clients for her PR firm. Abandoning prior commitments for one wickedly lustful evening—a one-night stand of kinky sex—was not on her agenda.
Carter Bosworth is looking for an evening of sex games during his layover in the tropical playground. He's a regular at TropiX and always open for a new thrill. His plans are sidetracked, but it may be to his benefit after all when he meets the beautiful Mariko.
The potent heat developing between Justin and Mariko tempts her into shedding her inhibitions, and an exploration in eroticism develops beyond her imagination at the fetish club.
~~~~~~~~~~~~~~~~~~~~~~~~~~~~~~~
I'm working on other stories for this series that center around TropiX. Spring Break is the first book.